La Mensa Di San Giuseppe (ST. JOSEPH'S TABLE)
Traditions in Sicily are very often related to religion. On St Joseph's Day celebrated on the 19th of March a very characteristic tradition is still kept in Sicilian families.
The "Mensa di San Giuseppe" tradition dates back to ancient times when a severe drought plagued the island. The people prayed God and St Joseph and the rain arrived saving them from starvation. After the harvest the families prepared a feast of foods offered to the poor to show the Saint their devotion.
Today in many towns the tradition still continues. In their homes families and neighbors arrange beautifully decorated altars and tables overwhelming with traditional dishes and sweets.
Main feature of the tradition is the "Pane di San Giuseppe" (St. Joseph's Bread) originally prepared as a vow and devotion to the Saint.
Everyone is welcomed at the Mense di San Giuseppe, friends, relatives, incomers and of course tourists. Hospitality is a natural tendency of town people, especially in Sicily. 
written by Maria Lina Bommarito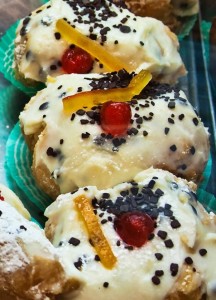 photo made by Giovanna Biondo