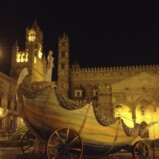 What's happening in Sicily
Posted by admin on Nov 20, 2012 in News | 2 comments
-hour small-group VIP tour of the Vatican Museums including skip-the-line entry

This tour includes exclusive access through a reserved entranceway and we guarantee you will not wait in any long lines

Enjoy a rare, private tour of the Sistine Chapel after its doors are closed to the public

Hear commentary from your guide inside the Sistine Chapel — normally forbidden!

Visit hidden corridors and secret Vatican rooms that are usually closed to the public, such as the Niccoline Chapel or the Bramante Staircase

See top Vatican attractions like the Apollo Belvedere statue, Raphael's Rooms, Gallery of the Candelabra and Gallery of the Tapestries

Experience the Vatican as a VIP insider with this Viator exclusive
FEBRUARY 2014 for VISIT PALERMO – la Cattedrale di Palermo, chiesa-fortezza
| | | |
| --- | --- | --- |
|   |   |   |
|   | COSA:  | ITINERARI ED ESCURSIONI |
|   | DOVE:  | Piano della Cattedrale al Portico – Palermo |
|   | QUANDO:  | 22/02/2014 |
|   | ORARIO:  | 10.00 – 13.00 |
|   | COSTO:  | 6 euro a persona + ticket percorso Cattedrale |
|   | INFO:  | Informazioni e prenotazioni al numero 327.4532153 |
|   |   |   |
from Thursday 25 to Monday, July 29 in Rome:
Special Rainbow Magicland – 5 Nights with the nose in Rainbow Magicland: from Thursday 25 to Monday, July 29 will compete the best pyrotechnics in the world, giving guests the park a unique event of its kind for beauty, majesty and spectacle of fireworks offered..
more info:https://www.magicland.it/?l=en#
May,17
SICILIA QUEER filmfest 2013 in Palermo – Sicily! 31/05 – 06/06 GLBT cinema and new visions...
LAST MINUTE for CATANIA:
from april,14 to april,24
€700  2 persons (1 week)
€850  4 persons (1 week)
All inclusive!!!!!!
Don't hesitate to contact me!
Gay Pride 2013
The next National Gay Pride will be celebrated in the city of Palermo! For 22nd of June!

March, 7, 2013
Are you ready to come in Sicily? Today 20 degrees!! The apartment Sunshine has special offer now!
 February 22, 2013
One day every month, the magnificent and vast Vatican museum is opening its doors to the general public to visit their rooms and, of course, the Sistine Chapel, for free.
On the last Sunday every month from 9 a.m. to 12.30 p.m. (closing at 2 p.m.), the museum will be open and absolutely free.
 This year admission will also be free on World Tourism Day on 27th September from 9 a.m. to 4 p.m. (closing  6 p.m.).
 There is no better opportunity to admire the countless gems housed in one of the largest and most outstanding museums in the world. Here is however one small piece of useful advice:  be ready to be extremely patient as queue tailing back outside the museum entrance can get rather long!
February 17, 2013
wonderful aperitif with friends in Sicily -still with 15 degrees and you know how much you can eat?
January 24, 2013
The most important festival in Catania is from February 3 to February 5 2013   – as every year is waiting for you!!!
http://www.youtube.com/watch?v=szSjLy0m3l0
January, 18, 2013
You know that you can enjoy Rome in this style?I really love it:)
http://www.romebysegway.com/site/segway-tours/imperial-tour-segway/
December, 18, 2012
..Who knows who or what you will find, maybe you will find yourself…:) All of you can see many travel websites having rich offers of rent apartments, touristic services and so on..In this moment if you are looking for my personally website I thing that we have two things in common. I love travel, and I'm passionately in love with Italy especially Sicily…. I chose for you personally these apartments in Rome and villas in Sicily, that have something special, architecture, their location and not only to have the right place for to sleep. I tried to get for you a tourist services that will be included in the rental price. ..in e few  words I work with you to give you the kind of holiday you will most cherish….