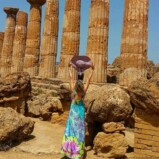 Winter holiday in Sicily
Posted by daniela on Aug 16, 2016 in blog, Featured on home page - list | 0 comments
10 reasons to arrive in Sicily in off-season.
Higher quality of food.
Fewer people around you.
In the winter we have up to 20 degrees, typically 90% of the days are sunny. Evening is cooled to an average of 10 to 15 degrees.
Beaches are empty, you can bathe until November, in December in any case, you can sunbathe.
The best time to visit Sicily is precisely in May, because everything is green and the whole island is in full bloom.
The worst time is in August, the whole world is here, so do not expect you to a quiet beach. And especially do not ask me for a quiet place!
In August, it is difficult to rent a car at the normal price.
Rents of villas and apartments collapse to a minimum, so it's very convenient.
You can visit the many wineries in peace.
Is easier to know Sicilians.