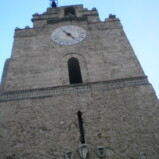 Monreale DOC
Posted by daniela on Jul 4, 2014 in News | 0 comments
Great food and wine event in Monreale this weekend 5th and 6th of July in Monreale (prov. Palermo). From 7 PM to all evening long you can experience the enogastronomic excellences of Monreale and surroundings. The entrance ticket (6 euros available on site) gives access to three basic courses of wine, olive oil and artisan beer. Because of the limited seats, however, it's best to have a reservation (prenota@monrealedoc.it).
40 selected exhibitors will present the very best of typical local products from wine to beer, olive oil, saffron, pizza made with special high digestible dough, and much more, all strictly Sicilian!
For further information:
http://www.monrealedoc.it/
A great chance to visit Monreale, its world-known cathedral, ceramic and mosaic and ancient print shops and typical village sites.
written and lovely pictures by Maria Lina Bommarito