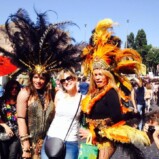 Palermo Gay Pride 2014
Posted by daniela on Jun 26, 2014 in News | 0 comments
Is starting today Palermo Gay Pride 2014, we are waiting fo you! Starting from Piazza Marina will travel as usual on the streets of our beautiful historic city center:
Cross Corso Vittorio Emanuele, Via Roma, Piazza Castelnuovo, Via Ruggiero Settimo to get to Piazza Verdi.
After the procession the evening will continue with the events close to the Teatro Massimo! 
More details on www.palermopride.it