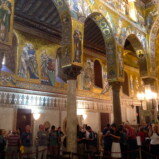 How to discover Palermo
Posted by daniela on Oct 6, 2014 in News | 0 comments
How to discover Palermo – great occasion for our tourists!
I would like to inform you that on Friday, 3 October began the eighth edition of "The Streets of Treasures – Le vie dei Tesori":
You have 4 Weekend to discover Palermo from 3 to 26 October 2014
The "Streets of Treasures" is a collective celebration.
With a coupon from 10 €
60 places to discover, art, science and nature, 80 walks around the city, 9 excursions outside the 100 events, of which over 20 are dedicated to children and teens.
The event is sponsored by the University of Palermo and three associations (Perlevie, Friends of the Museums in Sicily, Otie) in partnership with more than 50 institutions and associations of the city and Region.
Here is the list of the places (not all are included in special offer, the blue ones have another prices, if do you have any questions just write me)
Here is the list of places  – the blue one are not inlcluded in special prices, don't hesitate to write me for any other information.

Palazzo Steri 
Chiesa di Sant'Antonio Abate
Carceri dell'Inquisizione
Palazzo Reale
Giardini di Palazzo Reale
Oratorio dei Bianchi
Oratorio delle Dame o del Giardinello
Oratorio di Santa Caterina d'Alessandria
Oratorio della Carità di San Pietro ai Crociferi
Oratorio e cripta del Carminello
Oratorio di Sant'Elena e Costantino
Oratorio di San Mercurio
Orto Botanico
Fossa della Garofala
Chiostri del Museo Salinas
Ecomuseo del mare
Arsenale della Marina Regia
Castello di Maredolce
Porta Felice
Catacombe dei Cappuccini
Qanat
Cripta delle Repentite
Catacomba di Porta D'Ossuna
Cripta di San Matteo al Cassaro
Cripta dell'Oratorio della Morte in Sant'Orsola
Cripta Lanza a San Mamiliano
Cripta dei Cocchieri alla Kalsa
Chiesa e Cripta di San Giorgio dei Genovesi
Cripta di Santa Maria di Piedigrotta
Miqveh
Santa Maria dello Spasimo
Cappella dei Falegnami
Campanile di San Giuseppe Cafasso
Cupola del SS. Salvatore
Cupola della Cattedrale
Complesso di Santa Chiara
Torre di San Nicolò di Bari
Chiesa della Catena
Chiesa di San Giovanni dei Napoletani
Chiese nella caserma Bonsignore (Corso Vittorio Emanuele)
Museo Pitré
Museo Diocesano
Museo Geologico Gemmellaro
Museo Internazionale delle Marionette
Museo di Zoologia Doderlein
Collezione Basile – Ducrot
Museo storico dei Motori e dei Meccanismi
Archivio storico Comunale
Biblioteca di Casa Professa
Biblioteca Regionale "Alberto Bombace"
Archivio di Stato – Sede Catena
Archivio di Stato – Sede Gancia
Conservatorio Bellini
Teatro Massimo
Teatro Biondo
Palazzo Sclafani
Palazzo Bonagia
Palazzo Asmundo
Palazzo Alliata di Villafranca
Villa Raffo
Gli Antiquari
Walking without architectural barriers
Sunday, October 5 at 11:30 am – Discovering Kalsa
Sunday, October 12 at 11:30 – The plan of the Navy, a medieval square
Sunday, October 19 at 11:30 – The Castello a Mare found
Sunday, October 26 at 9 am – The Cassaro, the oldest street in the city
Sunday, October 26 at 11:30 – The city's religious and civil power
Quote: 3 € (including homing)
Ride a bike
Sunday, October 5 at 9.30 – Palermo and the sea, discover pedaling
Sunday, October 12th at 9.30 – Dominions and migration: a thousand cultures
Sunday, 19 am to 9.30 am – Up and down in medieval Palermo
Sunday, October 26th at 9.30 – Between old and new pedestrianization to experience the city that will be
Quote: 6 euro (including the inclusion of a month in association Bike City)
Walking for adults and children
Saturday, October 4 at 11:30 am – What was life like in the ancient city
Saturday, October 11 at 9 – Old stories of horses and riders
Saturday, October 11 at 11:30 am – But you know that Palermo was a garden by the sea?
Saturday, October 18 at 9 – How do I entertained the grandparents of our grandparents
Saturday, October 25 at 9 – Discovering Favorita
Quote: 3 €