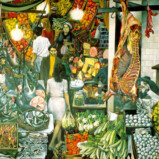 Artists of Sicily – from Pirandello, Guttuso..to Iudice
Posted by daniela on Sep 10, 2014 in News | 0 comments
Welcome in one of Egadi Islands  Favignana!
I highly recommend you this great event from 10 July to 12 October 2014 you have the unique possibility to live your vacation stay with the most famous Sicilian Artists like Rentato Guttuso, Fausto Pirandello…and many others.
Wher to see ore then 100 pictures ? In Ex Tonnara Florio. (tuny fishery)
Opening hours: from 9,30 to 13,30 and 16,30 to 23,30
When? Every day!