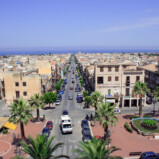 Cinisi Renders Homage to Peppino Impastato
Posted by daniela on Dec 7, 2014 in blog | 1 comment
36 years ago in Cinisi, Peppino Impastato was killed by the mafia. The young left-winged activist by means of his radio station "Radio Aut", had dared to attack the power and the interests of "Cosa Nostra".
Peppino Impastato was born in Cinisi in a mafia-related family, his future had already been traced. Peppino instead refused this destiny and broke with his family when he was still a young boy.
Peppino Impastato spoke, revealed names, spoke out against mafia affairs and denounced their complicity with politicians. It was this that condemned him.
The 9th of May 1978 Peppino Impastato was killed by an expolsion. The police archived the case as an accident or a suicide, but his friends never accepted this thesis.
In 2002, after 23 years of legal battles, the historic local mafia boss Tano Badalamenti was sentenced to life prison for this omicide.
 "I Cento Passi" (The One-Hundred Steps), film released in 2000, directed by Marco Tullio Giordana tells the story of Peppino Impastato. One hundred was the numer of steps it took to get from the Impastato house to the house of the mafia boss Tano Badalamenti.
The multi-awarded film (David di Donatello Award 2001, Brussel Film Festival 2001, Venice Film Festival 2000), has given notoriety to Peppino's story: "Una vita contro la mafia" ("A life against mafia").
Each year in this date, many events take place in Cinisi to celebrate the memory of Peppino Impastato. An entire week of debates, conferences and working groups culminating in a march departing from the Radio Aut station to the Memorial Home of Peppino.
written by Maria Lina Bommarito
For further information visit:
http://www.casamemoria.it/7-notizie/96-programma-9-maggio-2014.html
There are no photos with those IDs or post 6927 does not have any attached images!