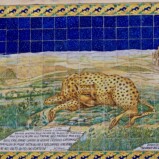 Santa Margherita di Belice e Gattopardo
Posted by daniela on Sep 14, 2016 in blog | 0 comments
Palazzo Filangeri Cutò, better known as Palazzo Gattopardo was almost completely destroyed during the earthquake (only the façade was saved) It was later partially rebuilt and today is the Town Hall, the Museum of the Leopard, the Institution Literary Park Giuseppe Tomasi di Lampedusa and the Theatre Saint Alexander.
This very small town (6000 inhabitants) is known today only for the big event The Institution Literary Park – with guests of honour such as Alain Delon, Claudia Cardinale and many others.
The Museum of Memory is a space created by using the ruins of the formerly restored Mother Church, once a meeting place for religious and social activities of the country and then disastrously destroyed by earthquakes. Inside hundreds of photographs guide the visitor to discover the Valle del Belice and her nine countries (Gibellina, Montevago, Salaparuta, Poggioreale Santa Margherita di Belice, Santa Ninfa, Sambuca di Sicilia and Life) before that shocking night of January 15th 1968.
In the Museum of the Leopard are reproductions of the original manuscript and typescript of the novel, donated by Gioacchino Lanza Tomasi. They are also disclosed in other cases containing letters, notes, documentation and period photographs of the writer Giuseppe Tommasi di Lampedusa.
I highly reccomend a visit to this part of Sicily and follow the trails of Gattopardo!